History
The Princess Theatre was once downtown Harriman's crown jewel, a 900-seat showplace that provided entertainment to movie-goers from Harriman and surrounding areas.
Crescent Amusement opened the Princess in September 1926, and it was known as one of the larger movie theatres in a small town.
The Princess suffered minor damage in a September 1932 fire, but was not so fortunate a few years later. In January 1939, a blaze destroyed the building, and the loss led to new theater construction in Harriman.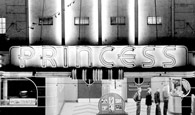 The Princess reopened on Nov. 16, 1939, and began showing movies once again. L.W. Bevel, from Sudekum Theatres, was the manager of the new Princess. The day the theatre reopened, Mr. Bevel happily greeted customers as they walked through the Princess' doors and handed over their tickets to see "Fifth Avenue Girl" starring Ginger Rogers.
The Princess continued on for several years, showing movies, and creating memories, for Roane Countians. In 1987, theatre manager Cecil Johnson began to lease the theatre when he learned that the company which owned the Princess planned to close it.
The theatre stayed open until 1999 when Mr. Johnson retired. Then, her doors were closed.
Beginning in 2001, the City of Harriman, Roane State Community College, the Tennessee Technology Center at Harriman, Roane County Schools, business leaders and community leaders worked together to renovate the theatre. The Princess Theatre Foundation formed in 2004 to raise money for the project, and the organization continues to support the theatre.
The renovation was supported by a $317,000 grant awarded to the City of Harriman by the Tennessee Department of Transportation. In addition, TVA donated $1.7 million to the Princess Theatre Foundation for the renovation.
Sparkman and Associates Architects were hired to restore the Princess in September of 2009.
Two neighboring buildings have been connected to the theatre for restrooms, dressing rooms, green room, storage and an elevator.
The City of Harriman owns the theatre. Roane State, with the support of the Princess Theatre Foundation, operates it.
The Princess doesn't show just movies anymore; it is a performing arts and education center that includes Channel 15 television station. The stage was more than doubled in size, and the theatre was restored back to its 1930s art deco grandeur.
Today, the Princess has returned to crown-jewel status and is used for concerts, movies, dance performances, community events, education and more!
---
For an overview on the renovation of the theatre, please visit Paul Mashburn's website:
http://princesstheater.blogspot.com